Yes! You can have a headshot this great too!
All of these shots were from real shoots with clients.  And just like you they thought they weren't photogenic.  With the right lighting, posing, and coaching I can make you look better in a photo than you ever thought possible.  And here's the real kicker, you'll actually have a good time during the shoot.  Most people expect a headshot shoot to be about as enjoyable as getting a root canal, but my headshot clients leave their sessions saying how much fun they had.  
Corporate Business Headshots and Portraits
Individual Session Rate: $290 for in studio, $1290 for on location within 50 miles of Boston. Shoots scheduled for the weekend are an additional $300.  During your session we can take headshots, portraits (half body, three quarters, and full body), or headshots and portraits.  Purchase only the images you love at the end of your session for $295 per image. You can make your selection of images on site or in the comfort of your own home.  All purchased images are carefully retouched in Photoshop to make you look your very best.  The retouched images are made available for download through my online gallery site as high resolution JPG files with royalty free reprint rights.  4 crops are provided of each purchased image (square, portrait, loose landscape, and tight landscape) to facilitate ease of use in different applications.  
The sessions are very flexible.  You can bring multiple outfits, shoot on multiple backdrops, and try a variety of poses.  What we shoot during your session and what you purchase is totally up to you.
I will provide you with guidance on what are good choices for clothing, backgrounds, and poses, based on the intended purposes of the shots.  During your session I will light you in flattering ways and coach you into great facial expressions that will leave you saying, "those are the best photos anyone has ever taken of me!"
A Professional Hair and Makeup artist is available to come to the shoot location for hair and makeup services for an additional $200.
Group Day Rate: Coverage for an 8-hour day of photographing up to 90 people (5 minutes per person) at a location of your choice within 50 miles of Boston is $4000. Retouching of images is available for $150 per file.  If 10 minutes is allotted per person, each person shot will get to select their preferred image on-site.
Headshot Booth: Coverage for up to 8 hours of photographing up to 400 people (1 minute per person) at a conference or event at a location of your choice within 50 miles of Boston is $4000.  All un-retouched images taken are delivered to attendees via SMS text or email within seconds of finishing their shoot.  Retouching of images is available for $100 per file.  Locations more than 50 miles of Boston require an additional travel fee.
Background Choices 
Studio backdrops as well as environmental backgrounds are available.  Here are a few of our selections to choose from. If there is something you are looking for that isn't listed here, let us know and we will look into getting it for you.
Composite Background: Need to match the background of your headshot to your co-workers' shots? Tired of corporate grey? No problem.  Vail can easily work her photoshop magic and extract your headshot and swap the background for one you prefer.  $100 per image.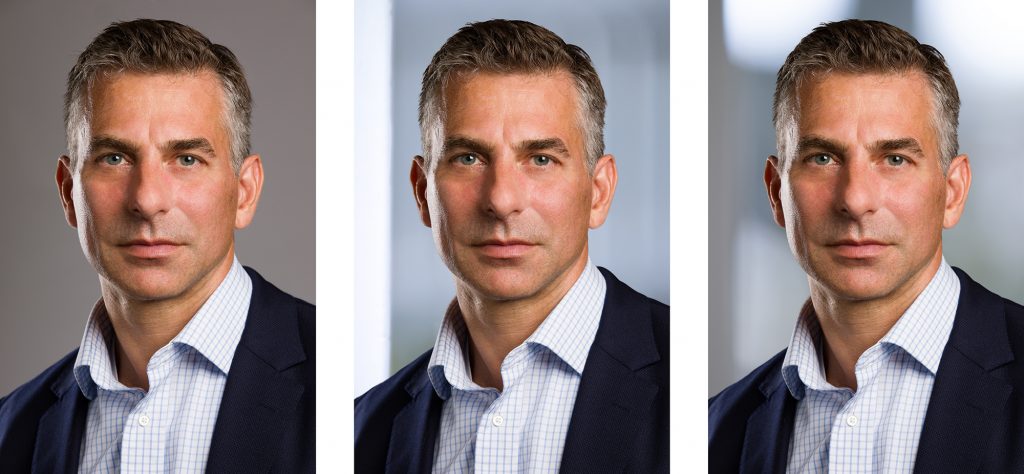 Trusted by the following brands: