On-Site Corporate headshots

by Vail Fucci Photography
In today's world people see your employees' digital faces more often than their real ones. If you are looking for the best on-site headshot photographer to capture flattering headshots of your team members, you need a visit from the Headshot Doctor, Vail Fucci. I'm a professional portrait photographer that specializes in high-end headshots and is based in the Boston area. 
With proper lighting, posing, expression coaching, pre-session consults, and my infectious positivity and enthusiasm, I can treat what has plagued your team's past headshots. I take people from double Chinsville to GQ jawlines. Strained fake smiles and bad cases of photo anxiety are no match for me.  I will have your employees laughing and having a great time.  By the end of their session each team member will see themselves in a whole new light, both literally and figuratively.  They will feel better about themselves than when they came in, and will leave with a healthy dose of self-confidence and a headshot they love. Employees can even receive their un-retouched images in a private individualized gallery the same day as the shoot. 
If you'd like to get a customized quote or would like to hear more about my process please click on the following link to contact me.  I will usually get back to you within a few hours of your inquiry.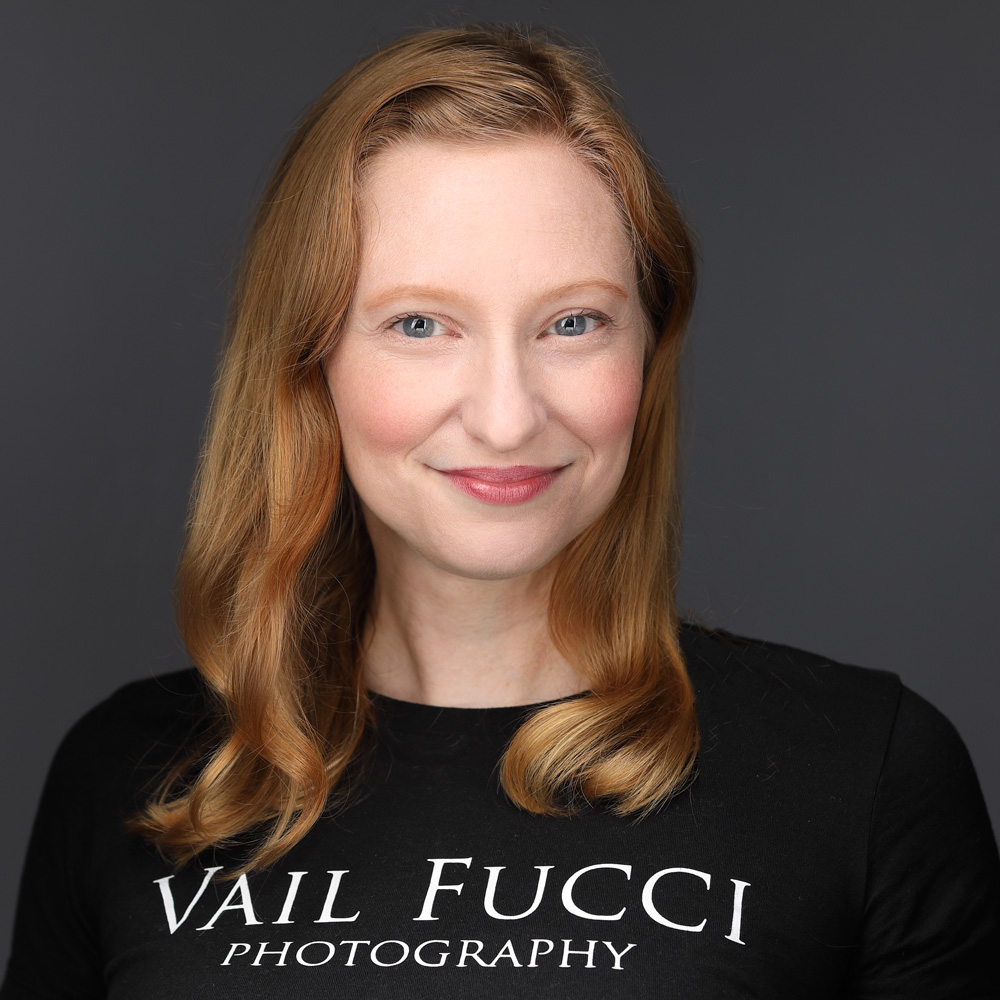 What Makes Vail Fucci Photography Different?
My goal is to make your company's photo day as stress free and easy as possible for you and your employees.  Here's how I make that happen: 
During our pre-shoot phone call we will determine what your company's needs are. We will discuss what type of space is available for me to shoot in and what type of background you would like for your photos.  
I can provide you with suggested guidelines for attire, hair and makeup.  
Once we establish a date for the shoot and a timeline I will provide you with a custom link that will allow your employees to sign up for their individual session time.  
The day before the shoot and one hour before the shoot my system will send the team members who have signed up for a slot a reminder email.  
If your company would like to have the employees choose their favorite image to use from the session, image review can take place on-site at the end of each session.  Vail will record the preferred image for you.  This saves you as the organizer a ton of time as you are not tracking down people to find out which image they would like to use.  
As the organizer you will receive an online gallery with the images from the shoot in high resolution and in whatever crop ratio(s) your company would like.
Each team member will receive their own image(s) in their own private online gallery.  This way you do not need to take the time to email out each person's image.  
I bring my whole professional studio setup including my continuous light panels with me for the shoot.  There are no annoying flash pops going off in people's eyes.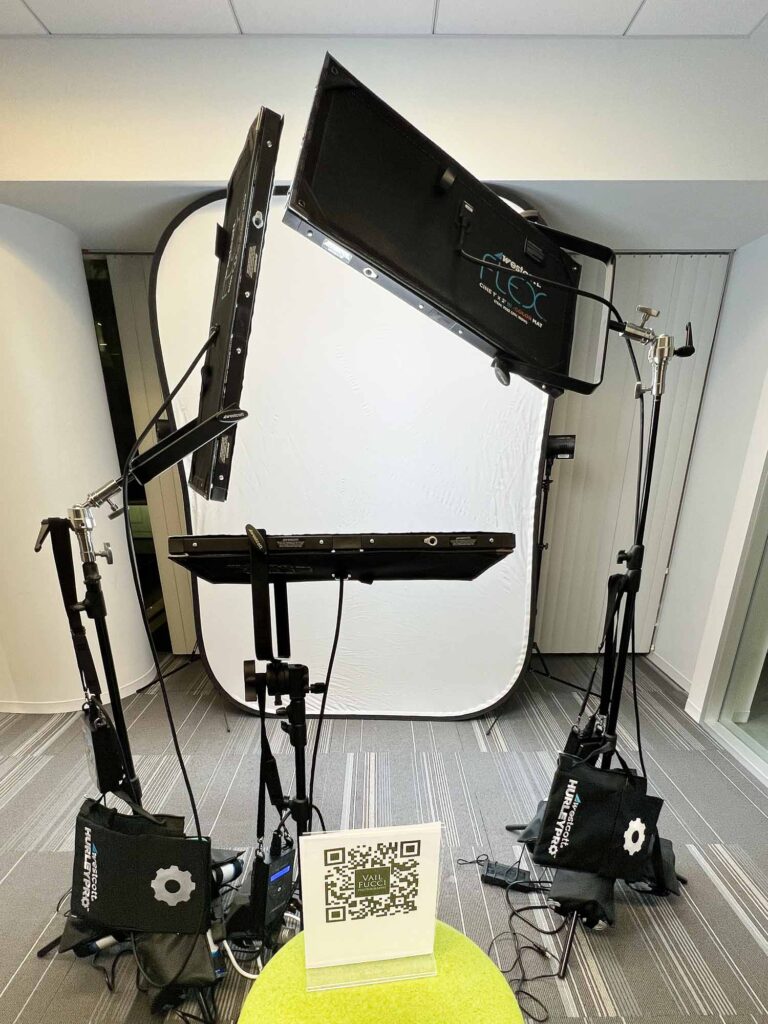 During each session with each team member I will teach them how to pose so that they don't have a double chin in their photo.
Even during short shoots I make sure to pay attention to details like hair being out of place or fixing rumpled clothes.
I provide facial expression coaching during the session.  This allows me to guide people into authentic expressions that are also flattering.  
The retouching I provide is very high level.  Each image is hand retouched by a professional. Under eye circles and wrinkles are lightened, blemishes are removed, teeth are whitened and straightened, flyaway hairs are removed, and skin tone is evened out, all without the resulting photoshopped image looking fake.  
Last, but certainly not least… I make the sessions fun and enjoyable.  Getting your headshot taken should not inspire as much (or more) dread as going to your dentist!  But this is the way so many people feel about getting their picture taken.  I put people's fears at ease, I make people genuinely laugh, and make them feel good about themselves.  I help people see themselves in a new light both literally and figuratively.  Using my advanced lighting techniques, posing, and friendly demeanor, they are able to see by the end of the session that they really can be photogenic and that can be a huge confidence boost. 
Large Group Day Rate
Have Vail come to your location to photograph your whole group
Up to 8 hours of coverage

All unedited images from session are provided to client on day of shoot

Retouched Images from session $150 each

Pre-shoot consult with Vail to discuss shoot details

Each person photographed gets their own private online image gallery immediately after their session is done

Custom advanced online session sign-up link provided for you

Automated reminder emails sent to employees before their session

Up to 90 people can be photographed

For shoots of more than 90 people custom quotes are available

Locations over 50 miles from Boston are an additional travel fee
New Hire Session
Missed photo day? Have a new hire? No problem, come to the studio
30-minute session

Consistent company background

Expression Coaching

1 image with retouching is included

Hair and Makeup Available for additional $200
On-Site Session
Have Vail come to your location, office or outdoors
No Images Included in Session Fee

Image review and selection at the end of each session

$295/image selected

All selected images include full retouching

Locations over 50 miles from Boston are an additional travel fee
Event Photography
Have Vail photograph your event
All images from the event are included

Same day delivery available for unedited shots

Pre-event planning call

Locations over 50 miles from Boston are an additional travel fee

Private galleries delivered in real time to attendees using Spot My Photos AI face recognition platform (+$500)
Photography Services Offered